The Myrtle Beach area, also know as the Grand Strand, is a 60-mile coastal area that stretches from Southport, North Carolina, to Georgetown, South Carolina. It includes the cities of Myrtle Beach, North Myrtle Beach, Little River, Murrells Inlet, Surfside Beach, Pawleys Island, Litchfield, and Socastee in South Carolina; and Calabash, Sunset Beach, Shallotte , Holden Beach, Southport, and Bolivia in North Carolina. The area provides a vast array of year-round activities that will meet the needs of any visitor.
Tourism is the main industry of the Grand Strand, and for good reason. The area has over 60 miles of white sandy beaches, which provide visitors with activities ranging from lounging in the sun to boating, surfing, fishing, beachcombing, beach volleyball scuba diving, and more. The Intracoastal Waterway and numerous bays, marshes, and rivers also provide an outlet for fresh-water activities ranging from fishing and kayaking, to boating and water-skiing.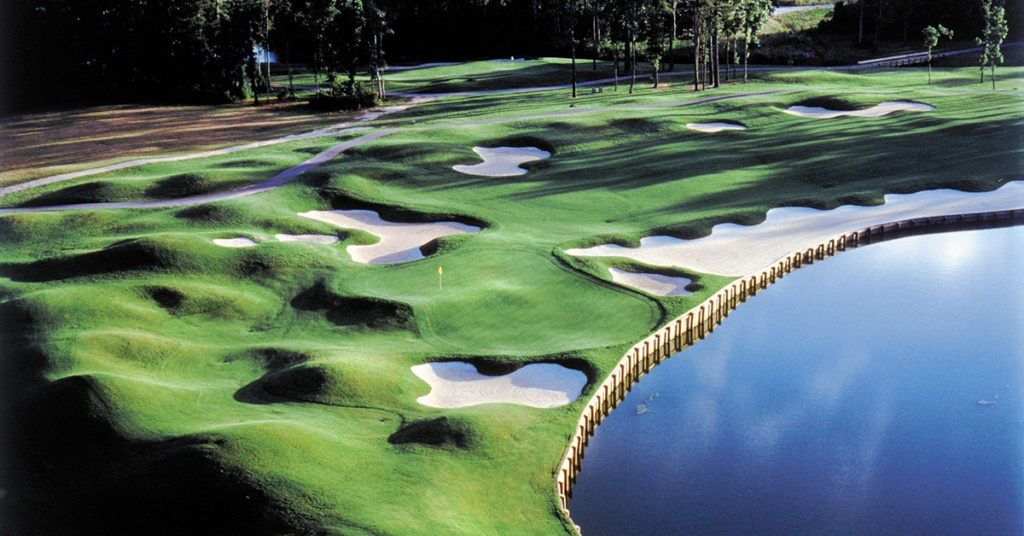 The Myrtle Beach area boasts nearly 100 golf courses, making it one on the premier golf destinations in the world. Area courses offer golfers of all abilities a huge range of choices. Prices range from economy to high-end, and design styles range from parkland to links and everything in between. Many of golf's finest architects have left their marks here – Robert Trent Jones Sr., Jack Nicklaus, Arnold Palmer, Rees Jones, Pete Dye, and Tom Fazio are just a few of the names you will find on area courses. Golf Digest™ recently included 10 Myrtle Beach area golf courses among its list of the 100 Best Golf Public Courses in the U.S. – more than any other geographical area by far.
When visiting the Grand Strand, be sure to partake of the wide selection of gastronomy available at the many area restaurants. Dining styles ranges from fresh-caught seafood, to European cuisine and Carolina BBQ. Although great dining can be found up and down the Strand, some key areas to visit include Restaurant Row, Broadway at the Beach and Market Commons in Myrtle Beach, Murrells Inlet and Pawleys Island at the south end, Barefoot Landing in North Myrtle Beach, and the town of Calabash in North Carolina.
Other entertainment activities in the Myrtle Beach area includes casino boats, live shows and concerts, numerous night clubs of all types, minor league baseball, the Freestyle Music Park, historic tours, and shopping to name just a few.
Getting around the Grand Strand has gotten easier the last several years. U.S. 17 is the primary highway serving the area and it runs the entire length of the Grand Strand from north to south. U.S. 501 intersects U.S. 17 in Myrtle Beach and is one of the main entry and exit points to the area. SC Hwy 9 is also one of the key entry and exit roads for the area. The Carolina Bays Parkway (SC Hwy 31), with its 65 mile per hour speed limit, runs parallel to U.S. 17 to the west, and is generally the best alternative to avoid traffic on U.S. 17 when you need to get from point A to point B in good time. Some other key time-savers for getting around the area are Robert Grissom Parkway, which runs through Myrtle Beach and the Conway Bypass (SC Hwy 22), which connects U.S. 501, SC 31 and U.S. 17.
Regardless of your age, your gender, your interests, and your budget, the Myrtle Beach area will keep you coming back year after year.

This is a complete listing of all Myrtle Beach area golf courses. You may include any of these courses in your golf package.

This is a listing of many of the Myrtle Beach area lodging options we can include in your golf package. We are always adding to our inventory.

Let Seaside Golf manage your entire golf event. Our experienced Golf Directors can help you select the perfect destination for your trip.

You can experience each of the courses virtually using the videos provided on this page. You will love seeing all the different style courses we have to offer.
Plan your next Trip Today!