IRELAND GOLF VACATION PACKAGES​
Let's Create Your Custom Package - It's Easy!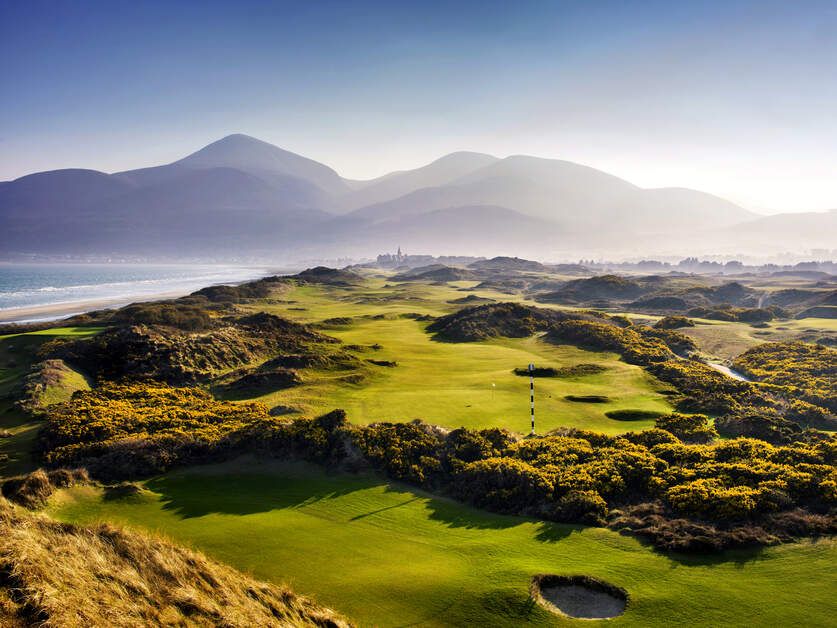 IRELAND. This ancient and mystical land immediately evokes feelings of beauty, affection, roots, and the warmth of its people. As a golfer, you will, of course, know Ireland is home to some of the greatest links golf courses in the world. Seaside Golf Vacations is delighted to bring you these wonderful courses and looks forward to having you be our guest in this magical land.
From Royal County Down, the #1 rated course in the world, to Portrush, The Old Head and countless hidden gems, why not follow in the footsteps of Irish legends such as Padraig, Darren, and Rory? Experience the beauty and the challenge of Irish Links golf.
Is there a golfer whose "bucket list" does not include a trip to Ireland? We doubt it.
Check out our standard packages below OR let us create a personalized Ireland golf trip for you.
Golf Destinations in Ireland
Dublin, the capital city of the Republic of Ireland, is a cosmopolitan, bustling city, which literally buzzes with energy and excitement. However, the great thing about Dublin is that if you fancy something quieter, half an hour's drive outside the city centre will take you to mountain walks, stately homes and gardens and fishing villages. The city is a great center for culture and you'll be spoiled for choice with all the fine museums, art galleries and theatres. Dublin is also home to a great literary tradition: its native sons include Shaw, Yeats, Wilde and Beckett. You can't talk about Dublin without mentioning the architecture; walking around the city you'll see everything from medieval and Georgian architecture to more modern buildings. If you are looking for a gastronomic experience, Dublin boasts a vast array of restaurants serving haute cuisine to traditional pub grub menus.
Dublin and East Ireland Package Deals:
The North West's landscape has been remarkably unaffected by the passage of time and is a striking mixture of coastal beauty, rambling hills, mountains and lovely lakes, all which provide an extremely interesting location for any visitor. If you are interested in poetry, the North West is a must, as it contains Sligo – the birthplace of one of Ireland's greatest poets, W.B. Yeats. You can visit the Yeats building and also visit his grave at Drumcliff churchyard. There is a fabulous choice of top class accommodation and restaurants in the North West, with evening entertainment freely available in a range of high quality venues. The area boasts splendid facilities for golfing, angling, equestrian, hiking, biking, cruising and watersports to name but a few.
North and Northwest Package Deals:
The County of Cork shares with Kerry the south-western corner of Ireland. Washed by the warm Gulf Stream and the mild moist southerly winds, palm trees and bamboo flourish. The whole South West of Ireland is one of the most popular holiday areas in Ireland and is a region of scenic contrasts. This region is steeped in ancient history and folklore. There are over 100 heritage and cultural sites of significance in the region and these sites cover many diverse aspects of Ireland's heritage and culture. Cork is the largest of all of the Irish counties and Cork City, the European Capital of Culture 2005, is Ireland's third city (after Dublin and Belfast) and is alive with the cultural richness of a truly modern city – annually featuring the world-renowned film and jazz festivals.
South West Ireland Package Deals:
Plan your next Trip Today!