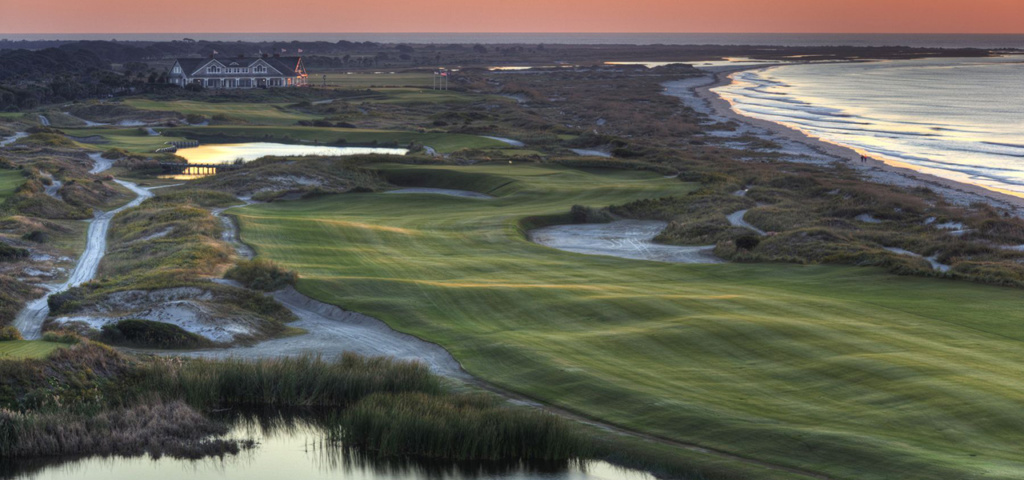 KIAWAH ISLAND GOLF RESORT PACKAGES
Kiawah Island Golf Resort is one of the premier golf destinations on the East Coast. The Resort is located about 25 miles from Charleston, South Carolina. It features five award-winning golf courses designed by Jack Nicklaus, Gary Player, Tom Fazio, Clyde Johnston, and Pete Dye.
The five Kiawah Island Golf Resort courses are:
The Ocean Course: Designed by Pete Dye from a ribbon of pristine sand dunes stretching nearly three miles along the Atlantic Ocean at the extreme eastern end of this barrier island, The Ocean Course is a par 72 layout reminiscent of the great seaside links of England and Scotland. Yardage can vary as much as the wind that constantly sweeps across the links. Played from the extreme back tee on every hole, the course measures a mind-numbing 7,873 yards, but that was never the intent of the designer. Instead, Dye created a variety of tees so that great holes would remain great holes, regardless of wind shifts. The Ocean Course hosted the 2012 PGA Championship won by Rory McIlroy, and the dramatic 1991 Ryder Cup known as the "War by the Shore."
Turtle Point: Designed by Jack Nicklaus, Turtle Point is a low-profile design in which fairways and green settings are blended into the existing landscape without artificial mounding and radical features. At 6,914 yards from the back markers with five par fours stretching 420 yards or longer, the course offers a tough test for all golfers. And the 412-yard 15th, the middle hole of a spectacular, three-hole oceanfront trio, with its tiny green tucked into the dunes, can be the hardest hole on the course, depending on the wind off the Atlantic.
Osprey Point: Osprey Point is a classic Tom Fazio layout. It's also a classic example of why Fazio enjoys such a lofty professional perch. At Osprey Point, Fazio had a superb natural canvas on which to create a masterpiece in playability and variety. The setting for the course features four large natural lakes, fingers of saltwater marsh, and dense maritime forests of century-old live oaks, pines, palmetto palms, and magnolias. Into that backdrop, Fazio blended a par-72 layout that stretches 6,871 yards from the back tees.
Cougar Point: Designed by Gary Player, Cougar Point is a par-72 layout stretching 6,861 yards from the back tees. Cougar Point is known for its three-hole stretch midway through the front nine where holes border the tidal marsh and offer panoramic views of the Kiawah River and miles of adjacent marsh. From these holes, it is not uncommon to see countless wading birds among the acres of needle rush and spartina grass or pelicans and osprey soaring over the river and creeks eyeing a possible meal. Golfers can easily find their attention diverted from birdies to birds. Starting with the par five 15th hole, Cougar Point offers four magnificent finishing holes culminating with the dramatic par four 18th hole.
Oak Point: Tucked away in the center of Hope Plantation, just outside of the Kiawah gate, lies Oak Point. This Clyde Johnston jewel, most frequently called a Scottish-American style course, is a par 72 layout. It is challenging to the novice golfer and the experienced professional while providing a fair test. Bordering the historic Haulover Creek and the Kiawah River, Oak Point was built on the grounds of an old indigo and cotton plantation. Finishing along the panoramic Kiawah River, golfers will be delighted at another example of quality golf that Kiawah Island has to offer.
Kiawah Island Golf Resort
3 Night /3 Round Stay and Play Special

Lodging: Stay in a three-bedroom scenic view villa at Kiawah Island Golf Resort.
Golf: Play one round on each of these three courses:
The Ocean Course
Turtle Point
Cougar Point
Note: Osprey Point or Oak Point may be substituted for either Turtle Point or Cougar Point at the same price.
| | |
| --- | --- |
| Dates | Prices* |
| 08/01/2019 to 08/10/2019 | $908 per person |
| 08/11/2019 to 09/01/2019 | $834 per person |
| 09/02/2019 to 10/26/2019 | $973 per person |
| 10/27/2019 to 10/31/2019 | $931 per person |
| 11/01/2019 to 11/24/2019 | $831 per person |
| 11/25/2019 to 03/01/2020 | $618 per person |
| 03/02/2020 to 03/25/2020 | $851 per person |
| 03/25/2020 to 04/01/2020 | $931 per person |
| 04/02/2020 to 04/05/2020 | $1,067 per person |
| 04/06/2020 to 04/15/2020 | $1,171 per person |
| 04/16/2020 to 04/19/2020 | $1,119 per person |
| 04/20/2020 to 05/20/2020 | $1,014 per person |
| 05/21/2020 to 05/24/2020 | $1,071 per person |
| 05/25/2020 to 05/31/2020 | $1,015 per person |
| 06/01/2020 to 06/05/2020 | $854 per person |
| 06/06/2020 to 06/26/2020 | $938 per person |
| 06/27/2020 to 07/12/2020 | $1,237 per person |
| 07/13/2020 to 07/24/2020 | N/A – Ocean Course Closed |
| 07/25/2020 to 08/15/2020 | $938 per person |
| 08/16/2020 to 08/31/2020 | $834 per person |
| 09/01/2020 to 09/06/2020 | $1,099 per person |
| 09/07/2020 to 10/24/2020 | $999 per person |
| 10/25/2020 to 10/31/2020 | $934 per person |
| 11/01/2020 to 11/22/2020 | $851 per person |
| 11/23/2020 to 12/31/2020 | $632 per person |
Please contact us for 2021 pricing
Prices are based on four golfers sharing a three-bedroom scenic view villa (quad occupancy), located at Kiawah Island Golf Resort. Please contact us to get pricing for other lodging options.
*The package prices shown above are based on Thursday – Sunday stay and play. The price will be discounted for rounds played on The Ocean Course on Monday to Wednesday during some rate periods. Prices are subject to available lodging and tee-times and may change. Seven-night minimum stays are required for some dates. Please contact Seaside Golf Vacations for guaranteed pricing.
**The Ocean Course is walking only all day with the exception of the summer months of June, July and August when carts will be allowed for players teeing off after 10:00 AM. The Ocean Course was designed for walking with tees and greens in close proximity to each other and walking the course with a caddy is by far the superior experience. If a guest cannot physically walk the course, a medical cart will be available. Per policy, medical carts require a handicap placard issued by a state or governmental agency or a note from a medical doctor.  Carts are always restricted to the paths and a forecaddie is required for anyone using a cart.
The package price for the Ocean Course includes a walking caddie or forecaddie. Suggested gratuity is $100 per bag for a walking caddie and $50 per person for a forecaddie. Gratuity is not included in the package price.
This golf package special includes the following:
Three nights of quad occupancy lodging
Three rounds of golf
Practice range balls prior to each round
Green fees
Shared Cart (please see note ** above regarding The Ocean Course)
Caddie or forecaddie is included on The Ocean Course (see notes above)
Departure maid service
Surcharges
Taxes & Resort fee
Create a Customized Kiawah Island Golf Resort Golf Package
Build your own package – The 3 Night / 3 Round package shown above is just a sample of the Kiawah Island Golf Resort golf packages we can offer you.
Seaside Golf Vacations can create a golf package with any number of rounds of golf on the five Kiawah Island Golf Resort golf courses, and at other courses in the area.
Lodging choices at the Kiawah Island Golf Resort include:
The Sanctuary Hotel: Garden View, Dunes View or Ocean View rooms
Scenic or Near Beach 4-Bedroom Homes
Villas: One-Bedroom, Two-Bedroom, or Three-Bedroom with various views.
Meal plans and housekeeping may also be included.
Call Seaside Golf Vacations today at 1-877-732-6999 or 1-843-281-9347 or e-mail info@seasidegolf.com to start planning your Kiawah Island Golf Resort golf vacation package.
CONTACT US TO CREATE YOUR OWN KIAWAH ISLAND GOLF RESORT SPECIAL 
Phone: 1-877-732-6999 TOLL FREE IN THE U.S. & CANADA 
1-843-281-9347 
E-MAIL: INFO@SEASIDEGOLF.COM
Most Popular Myrtle Beach Golf Packages
North Myrtle Beach
69°
clear sky
humidity: 100%
wind: 3mph NNE
H 70 • L 69
Weather from OpenWeatherMap

This is a complete listing of all Myrtle Beach area golf courses. You may include any of these courses in your golf package.

This is a listing of many of the Myrtle Beach area lodging options we can include in your golf package. We are always adding to our inventory.

Let Seaside Golf manage your entire golf event. Our experienced Golf Directors can help you select the perfect destination for your trip.

You can experience each of the courses virtually using the videos provided on this page. You will love seeing all the different style courses we have to offer.
Plan your next Trip Today!